Fishing Cabins The Rocky Broad River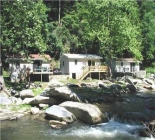 USD $
121.00
Cabin per Night + tax (2 night min)
USD $
661.00
Cabin per Week + tax
Package Details and Information
Fishing Cabins The Rocky Broad River — North Carolina (NC)
Package:2001059
The cabins are located on The Rocky Broad River by Chimney Rock, NC, right in the middle of apple country. The river is stocked weekly with trout within about 100 yards from the cabins, and we see lots of folks catching their limit. Be sure to have a fishing license. Tubing, kayaking and just playing in the river have delighted many of our guests. There are several rivers for white water rafting within a couple hours drive. The French Broad River is only 30 minutes away, and has both all day and 1/2 day rafting trips. We're located within convenient driving distance of attractions such as The Biltmore House in Asheville and Chimney Rock Park. Access to the Blue Ridge Parkway just a few miles away on the way to Asheville. Several nice and reasonably priced golf courses are within 30 minutes drive.
Location and Fishing Information
Fishing Cabins The Rocky Broad River - On the Rocky Broad River, a stocked trout river, located 2 miles from Chimney Rock Park. The prices quoted are for our 1 bedroom Sunflower and Berry Patch. We also have a 2 bedroom Applehouse Hardwood floors in the living areas, and carpeted in the bedroom. The cabins have an open deck on the riverside, with full river access. They are equipped with cable TV (about 30 channels). The kitchen has most everything you need; microwave, coffee maker, toaster, etc and all the necessary pots, pans and cutlery.
There's a charcoal barbque grill to grill out those trout you catch during the day
The river we are located on, the Rocky Broad River, is stocked weekly with trout by the state hatchery. They stock at 8 places on the river between our cabins and Lake Lure. The first place is right at our cabins, by our bridge.
There's also native trout and you can fish up and down the river from our place, as well as all the public places on the river down through Chimney Rock all the way to Lake Lure.
Some fly fisherman. Most folks use spinners, mealy worms and corn for the river trout.
You can also fish for bass in Lake Lure but would need a boat. Those are available to rent from the marina in Lake Lure.

Accommodation
We provide the linens and towels for our nightly guests We ask our weekly guests to provide those items. Our weekly rate is for 6 nights.
Fishing Season
The cabins are open year round. The state hatchery stocks the river from mid March through the end of August. Trout season opens the first Saturday in April, and is only closed in March.
Deposit required to confirm reservation and the balance is due 3 weeks prior to your stay
Nearest Airpot:
Asheville -
Distance:
17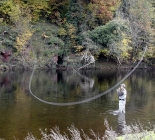 England, Cumbria
Professional Fly Casting & Fly Fishing Tuition
Full day Fly Casting and Fly fishing tuition (6 hours).
Available From:
06/19/2012
Per Day: £180.00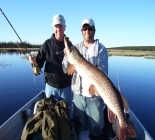 Canada, Ontario
Fly Fishing Saskatchewan
3-day, American-Plan Package
Available From:
06/27/2012
Per Day: $3495.00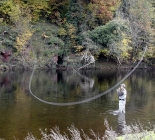 England, Cumbria
Professional Fly Casting & Fly Fishing Tuition
Fly Casting and Fly fishing tuition (4 hour session)
Available From:
06/19/2012
Per Day: £140.00
Sign up for our free trip planner and receive our monthly newsletter featuring offers on fishing trips.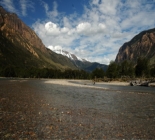 Spring Special November 2011 fr USD $1,625.00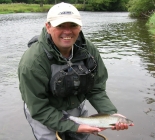 Casting Tuition And Guiding In Wales fr GBP �209.00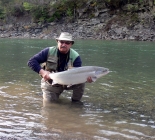 June 2012 - Atlantic Salmon Fishing fr USD $1,875.00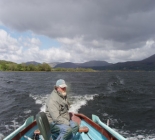 Lough Corrib - Fly Fishing Lake