Kisaralik River
Alaska (AK) —
Package: 2001369
Package Details and Information:
We realize that planning for an Alaska float fishing trip may have been a lifelong dream and ambition. We treat each trip as if this were the case, and will do everything within our capability and experience to place you on the right river at the right time for the kind of fantastic experience you deserve. Alaska float trips are our area of specialization and wilderness adventures are our passion.

Kisaralik River - Remote and little traveled, the Kisaralik offers excellent clear water fishing for Rainbow Trout, Arctic Grayling, Dolly Varden, Char and all 5 species of Pacific Salmon; beautiful scenery, wildlife and a spicy class IV waterfall enhance the journey. The river flows from Kisaralik Lake 110 miles through the Kilbuck Mountains, spanning several ecological areas on its passage. No lodges or power boats operate on the majority of this river.
Location and Fishing Information
Kisaralik River - The Kisaralik River is located 90 miles east of Bethel, Alaska.
The Kisaralik offers awesome fishing in a completely remote location. The river has a huge population of very large rainbow trout, countless arctic grayling, dolly varden, arctic char and runs of all five species of Pacific salmon. The river is excellent for both fly and spin fishermen.
Accommodation:
An Alaska river float trip is the ideal way to experience wilderness fishing. Traveling by 14' Aire raft, we spend a week along the banks of the river, fishing from the boats, stopping along the way at the best holding waters, establishing comfortable tent camps in the evenings as we travel at the river's pace. Our camps are strategically placed to provide nearby fishing. Fishing and daylight are available on a nearly 24 hour basis!
Available Dates:
The season on the Kisaralik River begins in mid July when the king salmon run is well into the river. We fish for rainbow trout, dolly varden, arctic char, arctic grayling and all five species of Pacific salmon through the end of August.
Book Now - "What the guide charges, is what you will pay and nothing extra. No middleman fees ~ book direct or contact the guide today!"
John Openshaw ~ President, WadersOn.com
| | | | | |
| --- | --- | --- | --- | --- |
| | | | | |
| USD $ | 4,100.00 | 8 day Kisaralik River float trip, plus commercial airfare to Bethel, Alaska | | |
Contact outfitter to confirm schedule availability.
Package Terms and Conditions

View similar packages Kisaralik River
View other packages to same destination
Most Popular Packages Alaska (AK)
—
Feature Packages
Back to top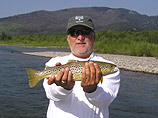 "Thank you for such a wonderful trip of fishing.
I have not stopped talking about it yet. Catching that many fish was remarkable..."
Matt Hambrick ~ United States
View Package
Other Comments
Sign up for our free trip planner and receive our monthly newsletter featuring offers on fishing trips.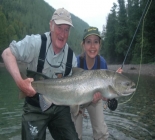 Prime Atlantic Salmon Fishing On The Gaspe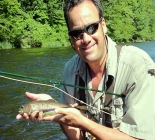 Fly Fishing Instruction And Guide Service