Southcentral Alaska Fly In Fishing Lodge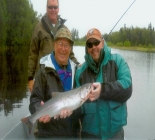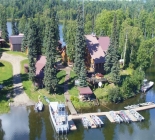 USD $
2,512.00
1 day/1 night All Inclusive Fishing Package for 2
USD $
3,684.00
2 days/2 nights All Inclusive standard cabin lodge package for 2
USD $
5,375.00
3 days/3 nights all inclusive fishing package
USD $
5,934.00
3 days/3 nights All Inclusive standard cabin lodge package for 2
USD $
6,612.00
4 days/4 nights All Inclusive Standard cabin lodge package for 2
USD $
6,925.00
4 days/4 nights for 2 adults standard cabin all inclusive
USD $
8,028.00
5 days/5 nights All Inclusive Standard cabin Lodge Package for 2
USD $
9,408.00
6 days/6 nights All Inclusive Standard cabin lodge package for 2
USD $
10,728.00
7 days/7 nights All Inclusive Standard Cabin fishing lodge for 2
USD $
920.00
Guided Fly In Day Fishing Trip for 2
Package Details and Information
Southcentral Alaska Fly In Fishing Lodge — Alaska (AK)
Package:200815
Price Includes:

8 hours of guided fishing per day, rod, reel, tackle, hip boots, meals, lodging, fish cleaning, freezing, packing of fish and air transportation to and from Anchorage.

We are a small, family run lodge with a maximum of 16 guests and 5 guides on staff, which enables us to give you the ultimate in personalized service. We will not mix parties in the cabins or the boats, nor will we fish you with hundreds of fishermen. There will be many days when your party will be alone in one of our beautiful streams.


Location and Fishing Information
Southcentral Alaska Fly In Fishing Lodge - Located 65 air miles Northwest of Anchorage, Alaska.

We contract with air taxis at Lake Hood in Anchorage to fly our clients in either a Cessna 206 or DeHavilland Beavers on floats. We are located on Fish Lakes Creek, a small clear water tributary of the Yentna and Susitna River Drainage.
Lake Creek and other fresh water tributaries of the Yentna River have some of the most productive salmon runs in Alaska.

Fishing our wild Alaska rivers offers the opportunity to experience nature at its best whether your method of fishing is fly fishing or spin fishing. Fishing is done directly from our Alaska fishing lodge in our 20' custom built boats.

Accommodation
Accessible only by air or water, We provide specialized service for a maximum of 16 guests. Eric and Shan built the lodge with your comfort in mind. A large spacious dining room with native birch wainscoting and two lounge areas provide a comfortable place to visit and share stories after a day of fishing. The dining room also serves well for corporate meetings.

Enjoy a beautiful view of Fish Lakes Creek from our individual guest cabins.

Three deluxe cabins with full bath or three standard cabins with a bathhouse close by are available.

Our screened in porch and large spacious deck overlooking Fish Lakes Creek are an excellent place for relaxing or for that corporate meeting.

Fishing Season
May 25-September 15, 2005
To confirm trips, a 50% deposit is required within two weeks of booking a date. Upon receipt of the deposit, you will be sent a confirmation on your vacation. The balance is due 30 days prior to your arrival date. Mastercard, Visa and American Express accepted.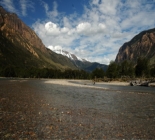 Patagonia Chile Fly Fishing Paloma River fr USD $3,250.00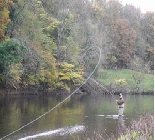 Salmon And Sea-Trout Encounters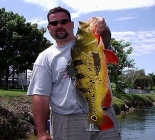 Florida Peacock & Largemouth Bass Fishing fr USD $350.00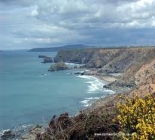 Fly Fishing In Cornwall
Sign up for our free trip planner and receive our monthly newsletter featuring offers on fishing trips.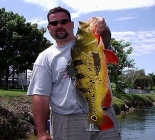 Florida Peacock & Largemouth Bass Fishing fr USD $350.00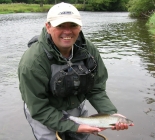 Casting Tuition And Guiding In Wales fr GBP �209.00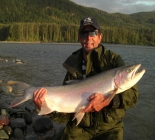 Fishing North Western B.c., Skeena Region fr CAD $4,728.00