Fishing Near Vancouver BC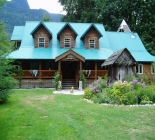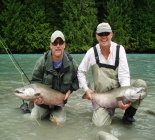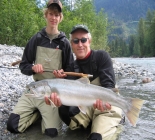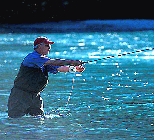 Package Option
Available From
Available To
Per Day From
4 nights lodging/3 days guided fishing
09/17/2011
11/30/2011
$ 698.33
| | | | | |
| --- | --- | --- | --- | --- |
| | | | | |
| CAD $ | 1,485.00 | 3 nights lodging/2 days guided fishing | | |
| CAD $ | 2,010.00 | 4 nights lodging/3 days guided fishing | | |
| CAD $ | 1,380.00 | 4 nights lodging/4 days unguided fishing | | |
| CAD $ | 2,605.00 | 5 nights lodging/4 days guided fishing | | |
| CAD $ | 400.00 | Guided fishing 1 angler- per day | | |
| CAD $ | 250.00 | Guided Fishing 2 Anglers - Additional per person per day | | |
Package Details and Information
Fishing Near Vancouver BC — Canada, British Columbia
Package:300410
Guided Fishing

During your stay at the Pitt River walk or raft the river with one of our Fishing Guides. We live on the river and our Guides know the river better than anyone bar none! They know the river's seasons, fish runs, fishing techniques and ever changing river habitat.

January-May: Steelhead, Cutthroat, Bull trout.
Steelhead begin returning January and peak at the end of March, until the end of April. The steelhead are all wild, and average 6-12 pounds with some as big as 15 pounds. Along with the steelhead you�ll catch many Bull trout in the 3-6 pound range. A day�s catch and release of 30-40 Bull trout plus a couple of steelhead is not uncommon.
-Bring egg sucking leech patterns, Squamish poachers, Kelsey�s Hopes or Crocodile spoons.

May-August: Sea run Bull Trout, Cutthroat, rainbows.
The bull trout in this system are extremely aggressive, powerful and average between 4-12 pounds, with some up to 15 pounds.
They attack Crocodile spoons of chrome or brass, 5/8 oz, large leech patterns or fry imitations. A fast sink line is recommended.

August-September: Sockeye, Bull Trout, Cutthroat and Rainbow trout.
From the first week of August until the 3rd week, the largest sockeye by weight in the world return to the Pitt River. Still chrome, these huge fish run up to 15 pounds and are renowned for their wild fighting abilities. After the 3rd week they begin to lose their color as they get ready to spawn. Bull trout, cutts and rainbows are all feeding on the sockeye eggs and are very aggressive.
Bring egg patterns, leeches, Muddler minnows, Crocodile or Kitimat spoons, and at least 10lb test line.

September-December: Coho, Cutthroat Trout, Rainbow Trout and Bull trout.
From the end of September the largest run of all wild coho in British Columbia returns to the upper Pitt. As many as 15-20 thousand coho will be in the system with over 7,000 Bull trout.

Bring: Minnow patterns, leach patterns Kelsey�s Hopes, Crocodile and Kitimat spoons.

October-May: Bull trout, Steelhead, Cutthroat, Rainbow Trout.
There is no end! Throughout the coldest months of winter the water drops and clears, but the fish are still accessible and available!

_________________________________________________

All trips during the winter are planned according to the weather.
The Upper Pitt is a unique river, glacier fed from ice fields high in nearby Garibaldi Park. This river offers exceptional fly fishing. Broad gravel bars make casting easy.

Coho, and Bull trout often hold in knee deep water. Rainbows and cutthroat can be found in quick runs, where they will rise to a dry fly or take a small minnow pattern.

The river is under catch and release regulations, for all species, and only a single barbless hook can be used. Due to the variety of fish in the system, and changing river conditions, fly fishermen are advised to bring a variety of lines, from floating to fast sink. Under some circumstances a rapid sink line is all that will work, so make sure you have one on an extra spool.

For your comfort make sure to bring chest waders with belt as the Pitt is fed by snowmelt and glaciers and is cold even in the summer~

For those opting to use the Cabin Package gear, not tackle, is available to rent. Tackle and fishing licenses are available at the lodge.

Due to the high mortality rate of fish with the use of natural bait, our Lodge no longer will support the use of it on this river system.
Location and Fishing Information
Fishing Near Vancouver BC - Our Lodge is located just 43 Air miles - North East of Vancouver International Airport at (N49�35�.715�� by W122�37.803��) seven kilometers from the North end of Pitt Lake, the largest tidal lake in North America, at the old townsite of Alvin.

Surrounded by the rugged Coast Range, it is easy to think you are in a wilderness area in northern British Columbia, or Alaska. (see the Satellite map below).

You will be met at Grant Narrows Regional Park by the lodge boat, a 32 ft. salmon gill-netter that works the Fraser River in salmon season. The 45 minute journey crosses the lake, where steep mountains surround you on all sides, where rock faces show native pictographs that date back thousands of years and where seals hunt for salmon in glacial fed waters.
Steelhead. Bull trout. Rainbows. Cutthroat. Coho and the largest Sockeye salmon in the world. Need we say more?

High tide pushes fresh runs of salmon up the Fraser River, across Pitt Lake and into the 40-km river. In the fall it's not unusual to catch chrome bright salmon with sea lice on them.

In the late winter and early spring the most beautiful steelhead on the planet run through the system to spawn in the upper glacial waters of Ice Worm Creek.

In the spring huge bull trout push into the river to feed on emerging salmon fry. Big cutthroat and rainbow trout can be hit anytime, anywhere.

Despite being close to the largest city in Western Canada, the Pitt River has kept its wilderness qualities because it is so difficult to access 40 kilometers of river await...
The Lodge can be reached by water or air only, think of it...there are no crowds!

Our boat departs regularly from the head of Pitt Lake, just outside Maple Ridge. After a 45 minute ride on the River Wind, a working commercial salmon boat, you are taken up a short logging road to the riverside lodge.

Accommodation
Our new 5000 square foot farmhouse style lodge plus four cabins are all the perfect place to experience the ultimate Angling Adventure! With a wrap around porch, cedar interior, hardwood floors, cedar burl bar, leather furniture and big screen TV, our lodge can assure you and your group can relax and unwind in comfort at the end of the day.

Dining is family style at a huge rustic redwood cedar table, with good home-style cooking, scrumptious desserts and homemade breads.

Fishing in British Columbia, Our Lodge offers the closest wilderness fishing lodge to Vancouver, British Columbia. Fishing for sockeye (reds), coho (silvers) steelhead, and trout.

Fishing Season
Fish Runs at a Glance
Please note that this chart is a guide to what fish are in the Upper Pitt River system at the different times of year. Certain species listed here are not open to Sport Fishing like Chinook Salmon. Please consult us or the British Columbia Sport Fishing Regulations for the latest information.
| | | | | | | | | | | | | |
| --- | --- | --- | --- | --- | --- | --- | --- | --- | --- | --- | --- | --- |
| Fish Runs | JAN | FEB | MAR | APR | MAY | JUN | JUL | AUG | SEP | OCT | NOV | DEC |
| Steelhead | | | | | | | | | | | | |
| Rainbow Trout | | | | | | | | | | | | |
| Cutthroat� Trout | | | | | | | | | | | | |
| Dolly Varden | | | | | | | | | | | | |
| Bull Trout | | | | | | | | | | | | |
| Sea Run Bull Trout | | | | | | | | | | | | |
| Sockeye Salmon | | | | | | | | | | | | |
| Chinook Salmon | | | | | | | | | | | | |
| Coho Salmon | | | | | | | | | | | | |
| Pink Salmon | | | | | | | | | | | | |
| Fish Runs | JAN | FEB | MAR | APR | MAY | JUN | JUL | AUG | SEP | OCT | NOV | DEC |
Fishing
Guide:

Hot =

Average=

Slow=

None in River=
�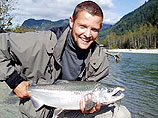 "Just a few words from the Danish school teachers as a big "thank you"
for an unforgettable stay at your magnificent lodge. We enjoyed the cozy cabin very much, and were stunned by the surroundings. Great hospitality, lazy black bears and big Coho's on the fly all in all made a huge impression."
Thorbjoern and Eigil
* Guided Fishing add additional prices to lodging prices above.

Non guided packages include: return boat transportation to Grant Narrows Park (45 min. ride each way), chauffeured around the river by vehicle to the best fishing holes with advice on hot spots/gear, walk and wade. Choice of lodge rooms or private cabin, all meals, wine with dinner.

Guided packages are available at an extra charge and include 8 hrs fishing per day, drifting the river by rafts with our best guides and/or walk and wade.

Waders/rods are available to rent for $25 per day per angler.

NOT included: Alcohol, Fishing Licenses, Taxes, Gratuities and Fishing Gear.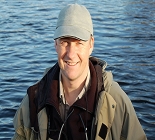 England, Cumbria
Professional Fly Casting & Fly Fishing Tuition
Full day Fly Casting and Fly fishing tuition (6 hours).
Available From:
09/22/2011
Per Day: £180.00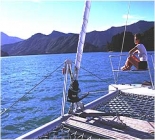 New Zealand, Marlborough
Boutique Luxury B&b; Accommodation, Blenheim
Double Occupancy per night
Available From:
09/17/2011
Per Day: $595.00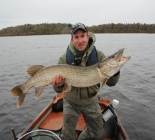 Ireland, Co. Roscommon
Guided Pike Package
per person (based on two anglers)
Available From:
09/17/2011
Per Day: €132.50
Sign up for our free trip planner and receive our monthly newsletter featuring offers on fishing trips.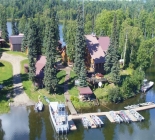 Southcentral Alaska Fly In Fishing Lodge fr USD $919.00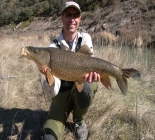 The Ultimate Fly Fishing Experience fr EUR �750.00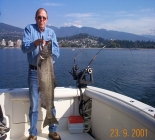 Fully Guided Salmon Fishing Adventures fr CAD $925.00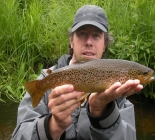 Brown Trout Adventure In Estonia fr EUR �150.00