Package Details and Information
Fly Fishing At Reka Hisa, Slovenia — Slovenia, Bled
Package:33001189
3,5,7 Nights

FLY FISHING BREAKS;
We can Taylor make your fishing trip to suit your needs and budget.

Trip: 3,5,7 Night Fly fishing Break
Duration: 3,5,7 nights
Price: From GBP 57.50p Per/Person per night based on 2 people sharing Twin or Double rooms.
Single occupancy of a Double room �85.00p per night Includes Breakfast,3 Course evening meal and packed Lunch
Guides GBP 150.00p per day

Special Price: For Groups

Accommodations:

Full board accommodations (Reka Hisa)

Location: Reka Hisa

Fishing euip Hire: we can arrange rod,waders and jacket hire
Guiding: We have local experienced english speaking guides available
Flights: Not Included
Airport Transfer:
Ljubljana Brnik and Klagenfurt (Austria) Airport to Reka Hisa can be arrange

Availability: 1st April Trout 1st May Grayling until min Nov, Huchen Danube Salmon season is from 15 November until 15th Febuary


--------------------------------------------------------------------------------

Description:

Fly Fishing Holidays in Slovenia. We include everything that you ask us to. We taylor make all Fishing breaks to suit your requirements.

We can offer and arrange for you:

Half board accommodations
Airport transfers from Ljubljana Brnik and Klagenfurt airports to Reka Hisa
Transport to reach all fishing streeches.
Experienced english speaking guides and Instructors
Hire service for all your fishing needs
Fishing permits

Fully Licenced proffessional fun loving English speaking Guides and Instructors are also available.
Location and Fishing Information
Fly Fishing At Reka Hisa, Slovenia - Slovenia is a country of less than 3 million inhabitants and about the size of Wales; it lies in the heart of Europe. This beautiful country is situated on the sunny side of the Alps and shares its longest border with Austria running along the Alps and with Italy from the Alps down to the Adriatic sea
We are actually situated on the edge of the Triglav National Park, the jewel in Slovenia's crown, Triglav is Slovenia's highest mountain and is a national symbol
Our riverside lodge lies between Slovenia's two most beautiful lakes, BLED and BOHINJ. It nestles beside the crystal clear waters of the Bohinska Sava River, offering some of the best fly-fishing to be had right in our back garden.
WEATHER
Slovenia is a very sunny country with cold but dry winters and hot dry summers.
clear alpine rivers full of marble trout, grayling, brown trout, brook trout and rainbow trout as well as chalk streams like Unec and Krka river. It is hard to find a fishing destination 1n the world that can offer Such a wide variety of river trips, squeezed into such a small area, and you will enjoy them all � guaranteed
Fly fishing method. Fly fishing rod with one fly
Flies: dry flies, nymphs, streamers
Rivers: Bohinjska sava, Soca, Krka, Radovna,
Fish: Marble trout, Grayling, Brown trout, Brook trout, Rainbow trout.
Winter Fishing
For the big game fisher men, Huchen Salmon upto 140cm in length

Accommodation
Reka Hisa is our riverside house nestling beside the Bohinska Sava River with it's beautiful clear crystal waters and the stunning views of the Julian Alps. It is a house for ALL seasons and the accommodation consists of four double/twin bedrooms with en suite bathrooms, and splendid views down the river. All rooms have their own balcony or patio area but we also have a two bedroom en suite ideal for families Reka Hisa is both relaxing and has an informal atmosphere and offers a high standard accommodation.

Meal times are special events with everyone sitting around the table, to chat about the day's adventures or anything under the sun. Fantastic meals made with local farm produce, fish from the Bohinska Sava and Slovenian Adraitic coastline and local game. Lovingly prepared for your enjoyment. Vegetarian and special dietary needs will be gladly catered for.
Clive and Myrna, your hosts, will serve your meals, eat with you and also join in the fun.

Reka Hisa is ideally suited for parties of six (6) to twelve (12) people.

Accommodation in Reka Hisa is on a half board basis; breakfast and evening meals or picnic lunches.
Fishing Season
For extended trips and availability please do not hesitate to contact us.contact us for more information.Seasons start 1st April Trout 1st May Grayling until min Nov, Huchen Danube Salmon season is from 1st December until end Febuary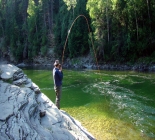 July 2014- Atlantic Salmon Fishing- 4 Days fr USD $1,875.00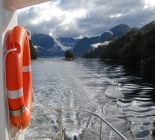 Lifetime Experience fr USD $2,195.00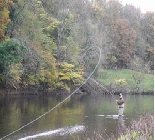 Salmon And Sea-Trout Encounters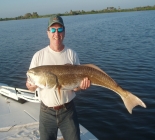 Saltwater Fishing Charters Near Orlando fr USD $450.00
Sign up for our free trip planner and receive our monthly newsletter featuring offers on fishing trips.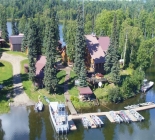 Southcentral Alaska Fly In Fishing Lodge fr USD $919.00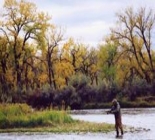 Bighorn River Fly Fishing fr USD $1,550.00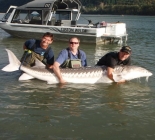 Fishing For Monster Sturgeon 2 Ppl