Alaska Fishing Charters
Alaska (AK) —
Package: 200948
Package Details and Information:
Located at the head of Resurrection Bay, just a scenic two-hour drive from Anchorage, Seward is truly an Alaskan fishermen's paradise. This area offers unparalleled habitat for all types of saltwater fishes that frequent South-central Alaska.

This vast maritime wilderness consists of many immense glaciers, scenic ice-carved bays, and rugged snow capped mountains that plunge deep into the emerald sea. In addition to great Alaska fishing charters, Seward is home to many varieties of marine wildlife, including humpback, orca, gray, and fin whales; Dall's Porpoise; Stellar Sea Lions; puffins and countless other species of sea birds; sea otters; and bald eagles.

A special breed of angler flocks to this nook of the world, where fishing lore is born. Alaska fishing legend is home to salmon runs so thick you can walk across their backs, halibut so big they're called barn doors, and bottom fish so plentiful, fishing for them is called "catching". Alaska's fishing bounty is so rich it continues to feed a hungry world.

Every fisherman dreams of the day he or she can make the pilgrimage to the fabled Alaska Fishing Mecca. Living your Alaska fishing charter dream doesn't have to wait any longer. It's more affordable than you realize. We have Alaska Fishing Charter packages to fit just about any budget.

Our fishing trips are hands-on adventures and you will be encouraged to hook and land your own fish. The captain and crew will bait your hook and net or gaff your fish as they come to the boat. If you are not familiar with the particular type or style of fishing our friendly crew will gladly guide you every step of the way.


Location and Fishing Information
Alaska Fishing Charters -
When sport fishermen mention the best of the best, they are talking about Alaska Salmon Fishing. It's pole-busting, reel screaming, line-burning action...angler vs. fish...no-holds-barred, heart-pounding excitement. Alaska fishing is a cut above.

Alaska Halibut fishing can quickly turn into controlled pandemonium as hookups test the tackle's strength and the angler's determination. You need a guide who has a lifetime of experience landing huge Alaska halibut to coach you through the fight.

Our Alaska lingcod fishing trips target these savvy predators where they live - in the rocks. Lingcod fishing trips are a great experience for anglers seeking a hands on fishing adventure (and a slight arm workout).
Book Now - "What the guide charges, is what you will pay and nothing extra. No middleman fees ~ book direct or contact the guide today!"
John Openshaw ~ President, WadersOn.com
| | | | | |
| --- | --- | --- | --- | --- |
| | | | | |
| USD $ | 250.00 | 1 Day Combi Halibut/Salmon or Halibut/Lingcod pp July/Aug | | |
| USD $ | 199.00 | 1 Day Halibut Charter, 1 night Hotel, pp Double occupancy | | |
| USD $ | 249.00 | 1 Day Halibut Charter, 2 nights Hotel pp Double Occupancy | | |
| USD $ | 175.00 | 1 Day Halibut Fishing Charter pp Sept - May | | |
| USD $ | 195.00 | 1 Day Halibut/Salmon Fishing Charter pp June - Sept | | |
Exclusive Alaskan Charters are available throughout the year for 1-6 or 1-8 Anglers with prices ranging from $995 - $1950.
Package Terms and Conditions

View similar packages Alaska Fishing Charters
View other packages to same destination
Most Popular Packages Alaska (AK)
—
Feature Packages
Back to top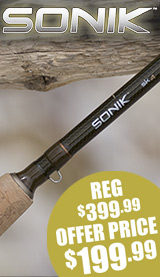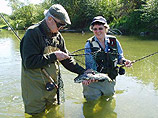 "A day with Barry is the perfect start to a fishing holiday in and around Gore
- The brown trout capital of the world. What could be better than this for my first fish on the Mataura river on my third cast of the day? He shares his knowledge freely and sets one up for a great time, either fishing on your own steam or further guided days with him."
Rosemary Gunn ~ UK
View Package
Other Comments
Sign up for our free trip planner and receive our monthly newsletter featuring offers on fishing tackle and trips.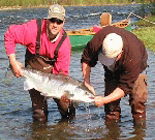 Gaspe Atlantic Salmon Fishing
Lakeside Luxury Lodge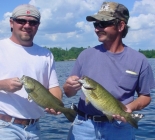 Fishing Red River Manitoba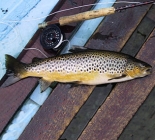 Highland Trout Lochs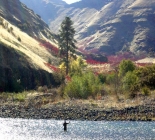 3 Day Campout On The Fabled Grande Ronde