The Ultimate Fly Fishing Experience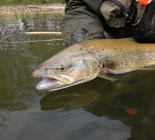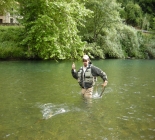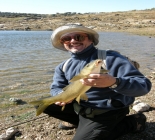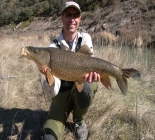 Package Option
Available From
Available To
Per Day From
2 fishermen 3 day package (per angler)
09/13/2011
11/30/2011
€ 250.00
1 fisherman 3 day package
09/13/2011
11/30/2011
€ 325.00
3 fisherman 3 day package (per angler)
09/13/2011
11/30/2011
€ 200.00
| | | | | |
| --- | --- | --- | --- | --- |
| | | | | |
| EUR � | 975.00 | 1 fisherman 3 day package | | |
| EUR � | 750.00 | 2 fishermen 3 day package (per angler) | | |
| EUR � | 600.00 | 3 fisherman 3 day package (per angler) | | |
Package Details and Information
The Ultimate Fly Fishing Experience — Madrid, Spain
Package:17001572
FLY-FISHING BARBEL (EXTREMADURA, CASTILLA LEON, CASTILLA LA MANCHA)
ENORMOUS TROUT'S ON DRY FLY IN SPANISH RIVERS
SEA TROUT ON DRY FLY.
We are a group of friends who passionately love fly fishing, and after having chased all types of fish all around the world. The key point in the success of our project is basically due to the extraordinary characteristics of our project �barbus barbus� that these offers making it possible to practice fly fishing. These marvelous and combative European fish are enormously famous among the local fishermen, possibly along with Salmon; this is the strongest and most combative of all the species that can be found in fresh waters. The extraordinary similarity with the Bonefish is not only in it�s morphology, but they are also similar when it comes to resistance they offer from the other side of the fishing line. Depending on the conditions of the surroundings, the barbels are authentically machines when it comes to feeding on the surface.

This type of fishing is carried out as we move from one point of the banks and lower points to another in search of our target fish, which normally move in huge groups and in most cases their tails always emerge from the water. The polarized glasses are fundamental. Once we spot a group of fish, the next step is to place the fly right on top of their heads, with (our best) precision. The reaction you will see next can not be described with words, they will slowly take the fly and then follows a huge explosion inside the water, followed by a very quick race, something no one can stop. The location of the fish is fundamental, very simple to carry out in a destination like ours, given that the population is infinite. In September, October and even November, there is a huge number of ants make their appearance, and these can abruptly convert a fishing day into an extraordinary fishing event, something you will never forget.

Location and Fishing Information
The Ultimate Fly Fishing Experience - Spain is among the most reputable tourist destination worldwide. The reason behind these phenomena is undoubtedly its climate, very welcoming temperatures and a rich landscape, crowning it all with a wide range of arid scenarios (quite a number of �westerns� have been shot in the deserts within the Province of Almeria) and the most prolific and fertile areas of Asturias and Galicia, are part and parcel of this success. The fact that this is in the peninsular, surrounded by the sea, with an exception of the Pyrenees, makes it ideal for the lovers of the sunny beaches. We should however not forget that Spain has an important concentration of mountains. Thanks to these mountains, the nation can boast to have several kilometers of rivers and huge lakes and dams where fishing can be practiced. Nevertheless, despite the fact that we have magnificent scenarios where fishing diverse species is possible, our country has never consolidated itself as a solid destination for fishing in the international arena. We can however observe that this has changed now. We can assure you that Spain has some of the major, original and high quality destinations, that can be offered to fishermen worldwide.

Since some years in the past, and to be precise in �Extremadura� there has been a unique site. The best captures will always be witnessed in April, May, June, September, October and November (Low Season: December, January, February and March), captures that can be compared to the best worldwide. Big fish, incredible fights and best of all, through DRY FLY FISHING, all that under the mantle of a warm climate, a unique characteristic of our country, as opposed to the cold autumns in other fishing destinations.

Our exclusive fly fishing destination, was recently discovered. The huge range of possibilities it offers are practically unexploited, with an exception of the study our team has been carrying out in order to prove the feasibility of our project.

You have the best chance to enjoy a breathtaking adventure! This year�s expedition, assures that all our clientele will enjoy the privilege of fishing in this magnificent scenario, where the captures are guaranteed. You will experience all this within a high quality luxurious hotel where you will have a unique chance to savor the best of the Spanish cuisine and enjoy a very distinguished treatment.

Accommodation
Where to sleep


As you can expect, such a spectacular fly fishing offer, can only be accompanied with a very special accommodation. Our lodge is located close to the fishing place.

As extra information we can underline that we offer our clients, individual houses totally equipped and with this we ensure that our clients have maximum intimacy and a well being while with us. In many fishing tours, most of the clients have to share rooms with others (that may or may not know) with the whole lot of problems that this can cause. In our premises we have a terrace, a living room, a restaurant, Garden and a pool. The terrace is the heart of the premises, while the garden acts as the lungs of the complex.

It gives a sense of freshness during the whole year, filling our nights with sweet fragrance from the scent of flowers. An unforgettable evening is truly crowned with watching the day go paving way to the night darkness, sited in one of our garden seats. This is a place which transmits tremendous vitality during the day and peace in the evenings and night.

Fishing Season
ALL YEAR
In addition to our 3 day packages we also offer 4,5, and 6 day packages. Please select booking inquiry to check availability and rates.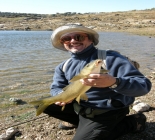 Madrid, Spain
The Ultimate Fly Fishing Experience
1 fisherman 3 day package
Available From:
09/13/2011
Per Day: €325.00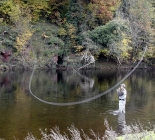 England, Cumbria
Professional Fly Casting & Fly Fishing Tuition
Fly Casting and Fly fishing tuition (4 hour session)
Available From:
09/13/2011
Per Day: £130.00
Sign up for our free trip planner and receive our monthly newsletter featuring offers on fishing trips.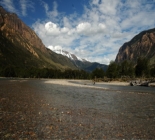 Spring Special November 2011 fr USD $1,625.00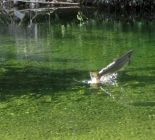 August 2011 - Dry Fly Atlantic Salmon Fishing fr USD $1,875.00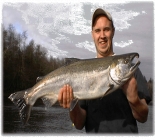 Guided Fishing Trips For Salmon & Steelhead fr USD $230.00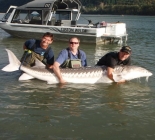 Fishing For Monster Sturgeon 2 Ppl