Alagnak River Float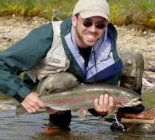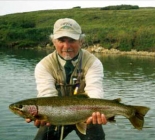 USD $
2,750.00
7 day Alagnak River Float
USD $
3,250.00
7 day Grizzly Creek Float Trip
USD $
3,250.00
7 day Moraine Creek Float Trip
Package Details and Information
Alagnak River Float — Alaska (AK)
Package:2001164
Imagine camping on the bank of a remote stream, fishing until midnight, waking up to the sound of salmon splashing their way upstream.� These trips are fly fishing only and we welcome both novice and experts alike with patient instruction and lots of easy to fool fish!.�
The trip begins with your arrival at the King Salmon Airport. We will double check your provisions and equipment, make sure everyone has a license and head down to the float plane dock. The flight to the lakes takes about an hour over vast areas of tundra, forests and lakes. We land in a spectacular lake at the foot of the mountains and unload all the gear. As the plane takes off we realize how far from civilization we are. If the fishing is good at the lake we�ll get right to it, if we need to proceed down the river to better fishing we will set up the 16� inflatable catarafts, load up the gear, set up some flyrods and head down the river.

It doesn't take long to get into some exciting fishing! We are in the heart of the best freshwater flyfishing in the world; clearwater streams, huge salmon runs, large predacious rainbow trout and you. Toward evening we need to set up camp and get some dinner. We all share in the tasks of setting camp, doing dishes, loading the boats, etc. Dinners and breakfasts are fairly elaborate (check out the menu section) and prepared by your guide, lunches usually consist of sandwiches served boat-side while on the river. Fishing until 1 am or starting at 5 am is not unusual because of the long days. On a float trip you determine when to stop fishing not the lodge. The majority of the fishing is done while wading but we always fish from the boat as well. Some days we will spend an hour in the boat other days 3-4 hours but it is always broken up by periods of wading.�
Location and Fishing Information
Alagnak River Float - Our Float trips are in Katmai National Park is in the Bristol Bay Drainage of Alaska. Float trips offer an exhilarating way to explore and fly fish this incredible wilderness.�
THE ALAGNAK

We float about 36 miles of the Alagnak from its headwaters to the end of the "Braids". The river is about 60 feet wide at the top and meanders through riffle after� riffle, run after run over a beautiful gravel bottom. The Rainbows are the mainstay of any trip, they range from 10-30" with most fish in the 15-24" range. The fight in this strain of rainbow is amazing. Every year when I hook that first bow I can't help but yell with excitement as it cartwheels all over the river and slips the hook! The Salmon runs on the Alagnak are famous. The Kings range from 25-60 lb., Sockeyes are in the 6-15 lb. range, Pinks 3-8 lb., Chums 8-20 lb. and � Silvers 10-20 lb. All toll there are between 2 and 4 million salmon that spawn in this river every year! Grayling and Char are an added bonus all season with a few lake trout thrown in! The river starts to piece itself back together, and gets deep not as friendly to fly fishing. We meet our float plane at the first landing area available 10 miles upriver from the lodges on the lower Alagnak. A float on the Alagnak takes you through the prime flyfishing areas that are accessible only by raft.
Accommodation
Camping ( Outfitter will provide all camping gear)
Although it is camping it is comfortable camping since we can carry lots of gear.� We have cots to sleep on, tents you can stand up in, a screened weather proof dining tent with tables and chairs and lots of great fresh food and wine that will rival any land based lodge.� For us the camping seems a small price to pay to be living on the river with all the extra fly fishing and wild life viewing time that affords.�
Fishing Season
June through September
7 Day Alagnak River Float
Coyhaique, Chile
Patagonia Chile Fly Fishing Paloma River
7 nights Chilean Patagonia Fly Fishing
Available From:
11/05/2022
Per Day: $541.66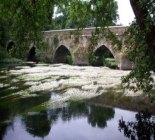 Lugo, Spain
Fly Fishing In Northern Spain
1 day fishing - 1 night accommodation
Available From:
09/08/2022
Per Day: £190.00
Sign up for our free trip planner and receive our monthly newsletter featuring offers on fishing trips.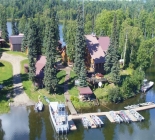 Southcentral Alaska Fly In Fishing Lodge fr USD $919.00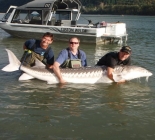 Fishing For Monster Sturgeon 2 Ppl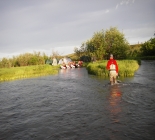 Alaska Float Fishing Trips fr USD $3,707.00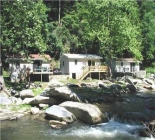 Fishing Cabins The Rocky Broad River fr USD $550.00