Alaska Float Fishing Trips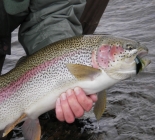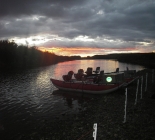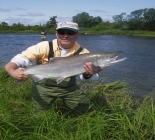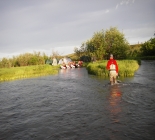 USD $
3,707.00
Alagnak River from King Salmon Alaska per person
USD $
3,932.00
American Creek from King Salmon Alaska per person
USD $
3,707.00
Chilikadrotna River from Iliamna Alaska price per person
USD $
5,169.00
Goodnews River Deluxe Float Trip 8 Days / 7 Nights
USD $
4,494.00
Goodnews River Intimate Rivers Basic Float Trip 8 Days / 7 Nights
USD $
3,369.00
Lake Creek price per person from Anchorage Alaska
USD $
4,494.00
Moraine / Alagnak combo* from King Salmon Alaska per person
USD $
4,157.00
Moraine Creek Deluxe from King Salmon Alaska per person
USD $
2,756.00
Talachulitna 5 day / 4 night per person from Anchorage Alaska
USD $
3,094.00
Talachulitna 7 day / 6 night - price per person from Anchorage Alaska
USD $
4,832.00
Togiak River Deluxe Trip from Dillingham Alaska per person
Package Details and Information
Alaska Float Fishing Trips — Alaska (AK)
Package:200925
Alaska offers some of the best fishing in the world and we are the leading provider of Alaska float fishing trips. Our deluxe Alaska float trip packages are as close to staying at an Alaska fishing lodge as you will find while floating an wilderness Alaska river and feature expedition quality rafts, experienced friendly guides, deluxe camps and meals, a better Alaska float fishing experience is not available, at any price. Besides fishing the Goodnews River other trips are available on Alaska waters such as the Togiak River, Alagnak River, Moraine Creek, American Creek and other waters, to see the full list of float trips available, click here.

For the economy minded angler we offer a limited number of trip packages that have fewer amenities at prices comparable to what other float trip operators offer and call them our intimate rivers trips which are available on select waters, see our schedule page for a full listing of the rivers we offer trips on as well as any special offers, or trips that have open spaces - perfect for the single angler or two looking to join an Alaska float trip.

Travelling to Alaska for a fishing or fly-fishing float trip has long been the dream of many anglers from all over the world. If you have visions of trophy rainbow trout, arctic grayling, char or any of the five species of pacific salmon dancing on the end of your fishing line, you have found the right Alaska float fishing guide & outfitter to guide you to your dreams.

We offer three different float trip packages these are our Fisherman's Deluxe, Standard Deluxe and Intimate River style float trips. Availability depends on the particular river you choose to float with us, on some waters all three service levels are available on others due to accessibility and logistics only what we call our "intimate rivers" version is an option.

Each of these options offer a different level of service with the least expensive being what we have come to call our "intimate rivers" package utilizing smaller rafts, expedition style tents, and fewer amenities then the two deluxe trips and should be considered as an 'roughing it' bare bones style trip, comparable to what most other operators offer as standard Alaska float trip fare.




Location and Fishing Information
Alaska Float Fishing Trips - We guide fishing trips in Alaska on the Goodnews, Alagnak, Togiak, and Talachulitna Rivers, as well as Moraine, American and Lake Creeks all excellent rainbow trout and salmon fishing trips with exceptional angling.
Particular attention is paid to float fishing trips on the Goodnews, Alagnak and Togiak rivers, both having large runs of pacific salmon and other species available and a fall favorite the Moraine or American creeks famous worldwide for exceptional rainbow trout fishing, these rivers offer you some of the best opportunities for a fishing trip in Alaska.

All the salmon species are here in good numbers but the star of the Togiak river is the large runs of bright silver salmon that show up in early August through Late September. The Goodnews River Offers Exceptional King Salmon angling and the best silver salmon fishing to be had on an Alaska float trip!
All five species of pacific salmon are available during the season as well as rainbow trout grayling and char. Where and when to go for the species of interest to you can vary please contact us and we will assist you in finding a package that fits your groups desires.
Accommodation
Our two deluxe trips, the "Fisherman's Deluxe" and "Standard Deluxe" We also call them our "Deluxe Alaska Lodge Style Float Trips" Because the accommodations are like no other you will find on an Alaska float trip anywhere. Accommodations on our deluxe float trips are in spacious, high quality tents made right here in Alaska. for Alaska conditions. Each of these tents is used to house two anglers in which you can stand in comfortably and come equipped with cots, sleeping pads and chairs. This provides you ample space for your gear, as well as a comfortable retreat should the weather become inclement. Also on these trips are our custom built large gathering / dinning tent capable of holding the entire group for dining or as a gathering area. All guests are welcome to hang out in this common space for drinks, fly tying and socializing. Other comforts such as available hot showers, toilet facilities and other little touches that make our deluxe trip a cut above all others.

Where the two deluxe trips differ is that on the "Fisherman's Deluxe" trip there is a two to one guest to guide ratio with two anglers and their guide floating the river in custom built drifter rafts each equipped with custom frames that have casting stations front and rear allowing for an exceptional angling experience. There is also an additional gear-boat that carries much of the camp gear and the majority of bags. Of course we still spend as much time as possible wading for fish. The additional guide/camp hand also assists in the setting up and taking down camp and assisting where necessary with guiding duties. The drifter rafts, being lightly loaded and equipped with anchor systems are able to thereby access almost any run on the river much like a drift boat and are highly maneuverable as well.

Our standard deluxe float trips offer the same camping amenities but no gear / bag boat or extra camp hand and a two or three to one guest / guide ratio depending on overall group size. These float trips require some participation and group effort. Your participation with unloading the rafts, moving camp gear and taking down sleep tents each morning is greatly appreciated. Each day anglers will rotate guides enabling everyone to fish with each member of the staff.

Our Togiak, Alagnak & Moraine trips are standard deluxe trips with the fisherman's deluxe package available as an option. All three levels of service are available on our Goodnews River float fishing trips, and the remaining waters are "Intimate Rivers" style adventures some with an option to upgrade to an deluxe style trip possible.
Fishing Season
June 8 � 14 Opening week Bristol Bay region, big hungry bows!

June 15 � 21 Spring Rainbows Rule! Usually as good as first week!

June 22 - June 28 "Rainbows Hot" & Here come the sockeye!

June 29 - July 5 Wear your arms out on sockeye!

July 6 - 12 Sockeye going on strong & here come the Chums!

July 13 - 19 Sockeye tapering off but great for Chums and some Kings

July 20 - 26 Chums & Kings

July 27 - August 2 Dollies & bows

August 3 - 9 Silvers start to show.

August 10 - 16 Silvers and Char on the Togiak!

August 17- 23 Bring on the Rainbows of fall

August 24- 30 *Moraine Creek* Big Bows � Small River! Or Alagnak

August 31 � September 6 Moraine or Alagnak or a Combo Trip Could start this week

September 7 - 13 Great week for "Big Rainbows" on the Moraine.

September 14 - 20 One of the best weeks for trophy rainbow trout!

Custom dates may be available too.. contact us for details.
The Following are our Goodnews River
2011 Trip Start Dates / Call For 2012 Dates
June 30 to July 7
July 8 to July 15
July 24 to July 31
August 1 to August 8
September 3 to September 9 *Special Call
September 10 to September 17

Trips marked with * 7 Day / 6 Night Standard Deluxe Trips

2011 / 2012 Rates:
Fisherman's Deluxe $4,995 per person, for a 8 day / 7 night package.

Call for other dates as we schedule them on a first come first served basis and on dates that best fit your angling desires.

Deluxe Package $4,595 per person, for a 8 day / 7 night package.

Intimate River Package $3,995 per person / limited availability - 8 day / 7 night packages. Call for details.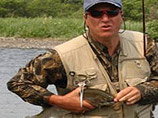 "My trip was absolutely the finest fishing adventure I've had to date.
Fishing the Alagnak was just unbelievable, the sockeye salmon were plentiful, and the scenery and peaceful surroundings were just phenomenal. The guides were extremely helpful, the equipment was reliable, and the whole operation was first rate. Definitely an experience I would love to repeat."
Gary Eugene Tonkery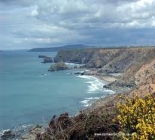 Fly Fishing In Cornwall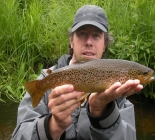 Brown Trout Adventure In Estonia fr EUR �150.00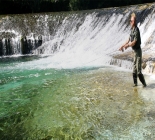 Fly Fishing At Reka Hisa, Slovenia fr GBP �165.00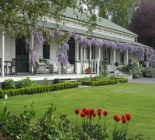 Boutique Luxury B&b; Accommodation, Blenheim fr NZD $520.00
Sign up for our free trip planner and receive our monthly newsletter featuring offers on fishing trips.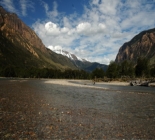 Spring Special November 2011 fr USD $1,625.00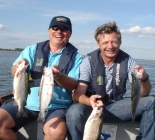 Fishing Rutland Water fr GBP �285.00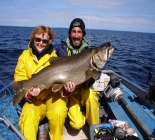 Fishing Northwest Territories fr USD $3,495.00